Learn more about Len Letourneau
From Precision Tools to Fine Handcrafted Guitars
From the age of eight years old I had a burning desire to become a world class musician. Having said that, I have been a classical guitar aficionado all my life and a pretty fair player as well! Although my dreams of becoming a great musician never came true, I suppose it comes as no surprise that I had the desire to build very fine handcrafted classical guitars.
Having been raised in a family where my father was a perfectionist and my mother was an extremely gifted artisan, one could almost say the stage was set for the seed to blossom. Even at an early age I had always admired beautiful works of art and had a desire to create such works of art.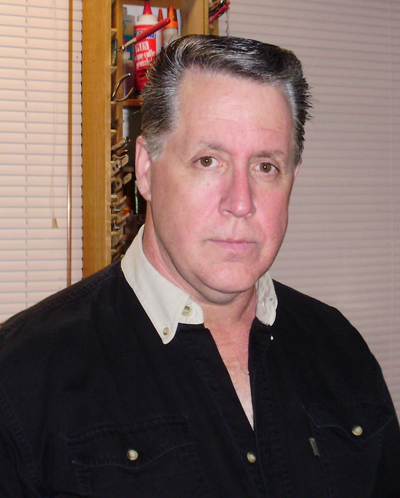 At the age of twenty I created my first major art piece. It was a miniature version of an old rustic farm homestead completely made out of steel. It featured a log cabin, chopping stump, wood pile, swede saw, water well complete with a crank and water pot, a water trough for the horses and even an outhouse! It did present some interesting challenges as I had no experience creating such a work of art, but quitting was not in my vocabulary! Upon its completion I proudly displayed the cabin to my parents and consider it quite a milestone to this day. My mother mentioned to me at that time that I should enter this work of art into the multicultural centre competition and that I could win some money, to which I replied: "sure, and we can split the profit!" I wasn't taking her too seriously, but as it turned out I won the metal arts division, best overall entry and received a cheque for fifty dollars! As promised, I asked my mother if she wanted half and she declined. I was a man of my word even that many years ago!
The years progressed along with my skills. I resumed taking classical guitar lessons at the age of 28 and had the good fortune of meeting Michel Forestier, one of the finest instructors in Edmonton at the Alberta Music College (which is now known as the Grant MacEwan). Having always prided myself as a good guitar player I thought that learning to read and play classical guitar music would be a breeze. I was surprised by how little I  knew about playing classical guitar and was promptly served up a dish of humble pie. At the time I was not amused, but now when I look back at it I am very thankful for that opportunity and have learned a lot to this day.
At that time in my life I began my search for a very fine classical guitar and started to educate myself as to the very fine luthiers of the past as well as the present. My search took me all the way to Chicago to see a luthier named Richard Brune, who I was going to ask to build me a fine guitar. I was exposed to some of the world's finest  luthiers and was able to play some of these fine instruments. It was while admiring these incredible musical masterpieces that I began formulating the sort of sound I was looking for, and educating myself. Little did I know that one day I would be building classical guitars.
By the age of thirty I had gained a bit more financial freedom and started to acquire machining tools, as this was an area of great interest to me and served me well in my quest to build works of art. At that time I was gravitating towards the woodworking field. My interests were to build model cannons starting with the simple boat cannons and then moving on to more intricate model Civil War cannons which were to a one sixth scale and much more intricate in detail and also more challenging. With my pursuit in works of Exotic Art I was using exquisite woods and brass.
As my search for a very fine classical guitar went on, I met a man in Vancouver named Geza Burghardt. Little did I know that this meeting would be the start of my guitar building career. I purchased one of his guitars and showed him some pictures of my work, after which he kindly asked me to build him a special tool. I readily accepted the challenge, built a very elegant tool and mailed it to him. He called me right away and mentioned that he didn't know that I was capable of doing this kind of work, and that he was pleasantly surprised. I replied: "Well I just wanted to show you that I am not a slouch when it comes to being a craftsman!"
I think it was there that our friendship was cemented and at that point he asked me if I would like to build luthiery tools that he had designed for guitar making. I happily accepted his proposal and was now creating precision tools to perform delicate operations in the process of guitar making.
A few more years went by and then one day Geza suggested that I should build guitars. He could see that I had the skills, the mindset and the eye to create fine handmade classical guitars. After hearing these words of inspiration I decided that I would take this challenge head on. At this time I had also met another guitar maker namely Michael Lazar who had purchased some of my tools. With his and Geza's help, and my acquired skills I was able to build very fine handmade classical guitars in a very short time. Thus began my guitar building career.
Learn More About Letourneau Guitars